"We stopped looking for monsters under our bed when we realized that they were inside us" -Charles Darwin

Proudly made in the USA 🇺🇸
Diameter: 2"
Weight: 1.5 oz
Hand Antiqued Silver Plated
Aggressive 3D Detail and Design
Customer Reviews
Write a Review
Ask a Question
hYdE
The Coin is of great workmanship as always - Definitely Recommend !!!! MonsterK-9.com
06/25/2022
Josh L.

United States
Such amazing attention to detail!
As the title says, this coin absolutely amazed me with the level of detail that clearly went into making this piece. I should have posted this sooner but we've been in the process of moving. Nevertheless, I don't hesitate to buy any new coins from IronSmith because I can't wait to see the next amazing work I am adding to my post-retirement coin rack.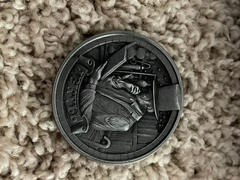 06/18/2022
Steven N.

United States
Awesome coin
As always another awsome coin from Ironsmith.
Our Attitude
Honorable Intentions, Deviant Methods
Here at Ironsmith® we accept the duality of human nature, and embrace the fight to achieve balance in ourselves and our society. Righteousness is relative, so which path will you choose to walk? The honorable one, the deviant one, or somewhere in between? I hope its with us, for it takes a group of conscientious rebels to defend and foster the continuation of liberty and virtue.